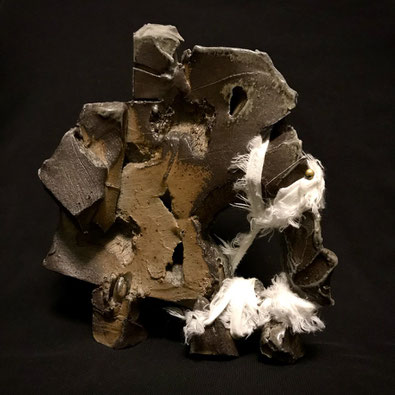 Contemporary Clay 2022
Mend is part of this national biennial ceramic show, juried this year by Fong Choo.  
May 13-June 25
The Art Center, Western Colorado Center for the Arts.
Little Things Matter: Small Scale Sculpture Exhibition.  Juror: George Beasley. 
University of Southern Mississippi Gallery of Art and Design.  Hattiesburg, MS. 
November 4: Iron Pour & Lecture with Juror.
October 4-November 5, 2021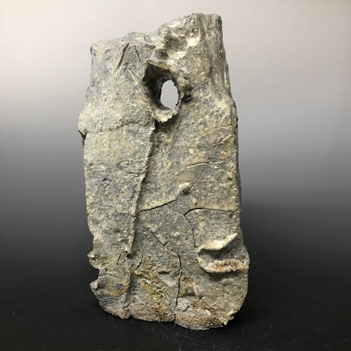 Women of Woodfire at Eutectic Gallery of contemporary ceramics in Portland, Oregon.
June 4 - 24, 2021 
Contingent I , high fire stoneware with natural ash glaze solid sculpture.   So excited to be a participant!! Support women artists. Support groups like The Color Network & Clay Siblings to encourage & acknowledge & support ceramic artists of color...  LOOK 'em up!! Thanks to Gloria, Dahlia, Chris, Joan & Chris, fab firing crew.
 Juror: Brett Binford.
FMI: www.eutecticgallery.com
Happy to have sculpture Base in local show:
"HOME"
Duke Gallery
Community Arts Center in Wallingford, PA.
Feb 1-March 5, 2021
Reception Sunday, February 7, 1-4pm.  Pre-register for in person reception. COVID protocols in effect.
Gallery hours on other days may be best way to view show. Contact CAC:  215.913.7267
www.communityartscenter.org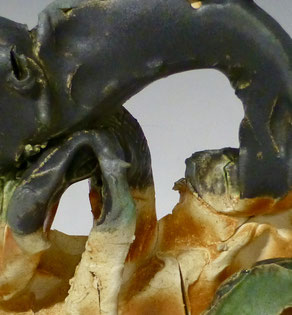 "Global Rights for Women NOW" Conference
Art Auction thru October 5, 2020 
Sassy- detail.
Wood fired stoneware w/Ipanema & ash glaze.
5.5" x 6.5" x 3.5" & 2.5" x 3.25" x 2"
Global Rights for Women works around the world to advance women & girls' human right to live free from violence via legal reform & institutional & social change.
www.globalrightsforwomen.org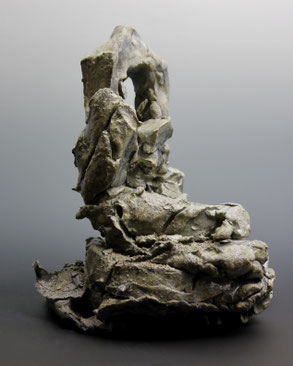 "The Clay Studio National 2020"
Jury Team: Kukuli Velarde, Sana Musasama & Lauren Sandler.
The Clay Studio, Philadelphia, PA
www.theclaystudio.org
July 10-Aug 9, 2020
I'll carry you...
10.25" x 9.5" x 8.25"
Wood fired sculpture w/natural ash glaze.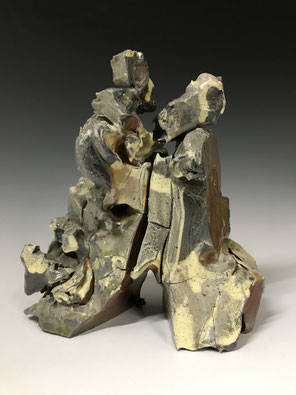 "Contemporary Clay 2020"
Juror Bill van Gilder.
The Art Center, Western Colorado Center for the Arts
June 5-June 27, 2020
Plight-Wood fired stoneware w/underglaze & natural ash glaze.  9" x 8.5" x 5.5"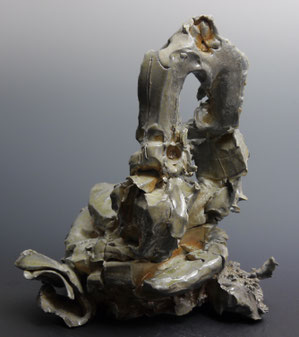 Excited this sculpture I'll carry you... was chosen by Juror Bruce Dehnert to be part of "The Great Divide" national ceramic exhibit at the Morean Center for Clay in St. Petersburg, FL.
December 14, 2019- January 31, 2020. 
Happy to have a sculpture-Shift- in this show!!
"Earth Devised: A National Exhibition of Ceramic Art"
May 11-June 6, 2019
Juror: Richard "Rick" Nickel for The d'Art Center in NEON District of Norfolk, VA.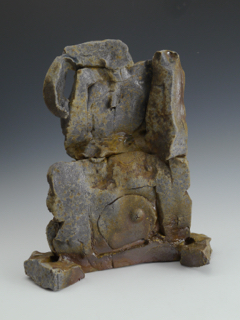 Adjustment is part of Rehoboth Art League's "8th Regional Juried Biennial Exhibition". Ben Simons, Juror. Corkran and Tubbs Galleries, Rehoboth Beach, DE.  
September 7-October 13, 2018
*Concurrent Exhibit "New Negation"  by
Kyle Hackett in the Ventures Gallery. 
www.rehobothartleague.org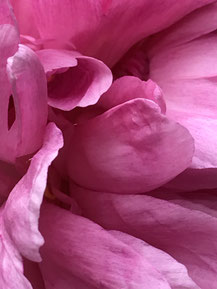 SUMMER Peonies-my favorite.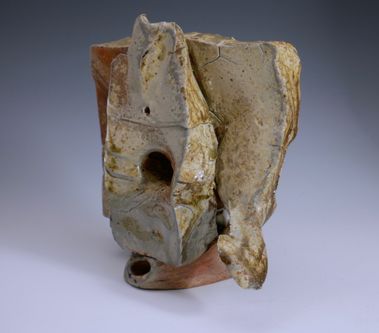 Keeper  (7" x 7" x 5")  Check out the 12th Annual "HWD" Juried Sculpture Exhibition at Rosewood Arts Centre in Kettering, OH opening August 30th, 2018. Continues thru October 5, 2018.  Juror: Patrick Mauk. Enjoy!!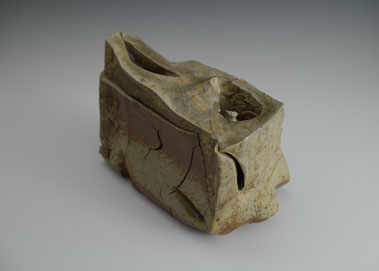 "Shapes of Influence Biennial Ceramics Exhibition 2018",  Juried by Simon Levin. Situate,
(6" x 6.5" x 3"), will be on display Aug. 3-Sept 1, 2018 at the SAA, Springfield Art Association in IL.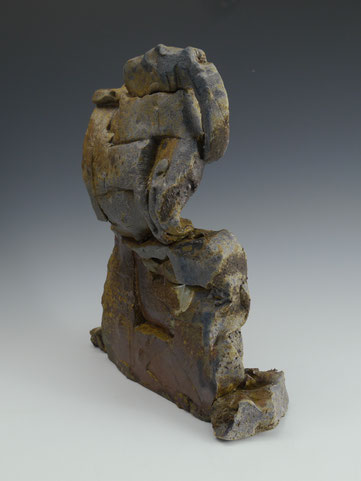 "Contemporary Clay 2018". So pleased to be included in the 7th Contemporary Clay Biennial.  Juried by Doug Casebeer. This international exhibition showcases ceramic sculptures, vessels & installations. Adjustment-above-is my contribution. May 11-June 23, 2018 at The Art Center, Grand Junction, CO. www.gjartcenter.org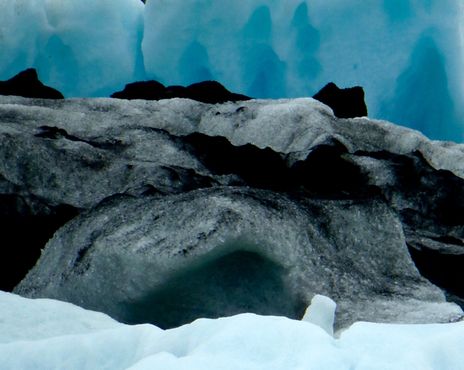 Ice Painting photo.  Iceland's Jokulsarlon glacial lagoon. In 2017 I was fortunate to fill up on WONDER during a spectacular, long-desired visit to Iceland. My partner Chris & I celebrated his 50th birthday, my 5yrs out from ovarian cancer & our relationship of 16+ yrs...Pretty crazy lucky. 
Music & SCULPTURE Summer Festival!!
JUNE 27 & 28, Tyler Park Center for the Arts.
10 Stable Mill Trail, Richboro, PA. (Bucks Cnty)
Children under 12 FREE, $15 both days
*Large & small scale sculpture & Live Music & demonstrations/activities both days...
TylerParkArts.org or 267.218.0290 FMI.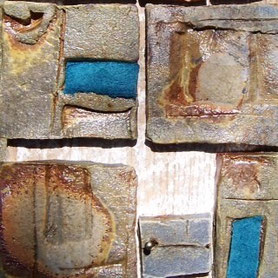 Tile Festival 2015: MAY 16 & 17 (Sat & Sun) Moravian Pottery & Tile Works, Doylestown, PA. 215.348.6090 MPTW@CO.BUCKS.PA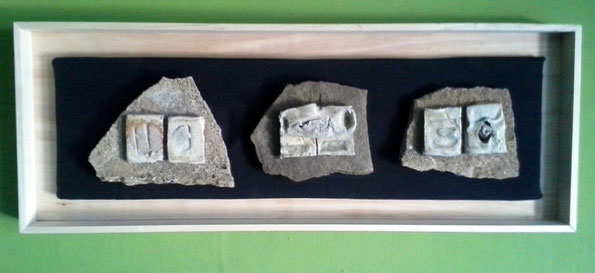 "Celebration of Art & Life 2014" on display until January 2015. Land Marks (a "Best of Show" piece!!) is part of this exhibit for Penn Tower/Perelman Center for Advanced Medicine patients, family, staff & public to enjoy. Adjacent to CHOP, University of Pennsylvania stop on SEPTA.
Enjoy photos? Please visit "PPAC/Philadelphia Photo Arts Center Members' Exhibition" August 1-17, 2014 at 3rd Street Gallery.  Located in Old City area of Philly's Center City at 45 N. 2nd St.  (Yes, 3rd Street Gallery on 2nd St.)
Opening reception 5-8pm, Friday, August 1.  Take in some First Friday festivities!! 3rd St. Gallery hours: Tuesday-Sunday, 12-5.
 ...another place comprised of above print, (4"x6" on Hahnemuhle Rag), coupled with 4"x5"x3" rugged, dark jade encrusted (natural ash glaze) woodfire ceramic sculpture.  Print alone available in varying sizes, by arrangement-email me:danicallahan@gmail.com    Be sure to check out www.philaphotoarts.org 
---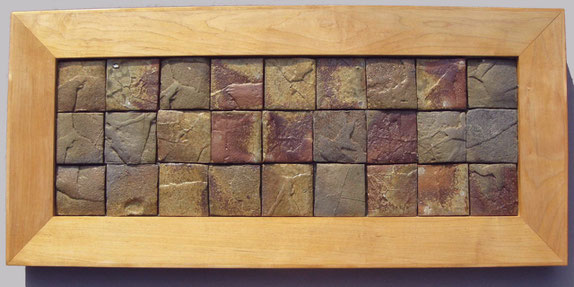 Meditation Panel is on display until January 2014. I am thrilled to be part of the "Celebration of Art & Life" exhibit, & honored to have a "Best in Show" designation. A range of beautiful work is displayed throughout the Penn Tower building & The Perelman Center for Advanced Medicine located on Penn Campus. Philadelphia, PA.
---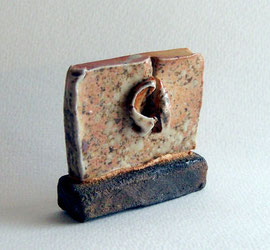 The annual May Tile Festival (Moravian Pottery & Tileworks in Doylestown) was fabulous.  Thanks to everyone who stopped by to check out my work-2013!